Diesel Engines
Product Search
PHF6P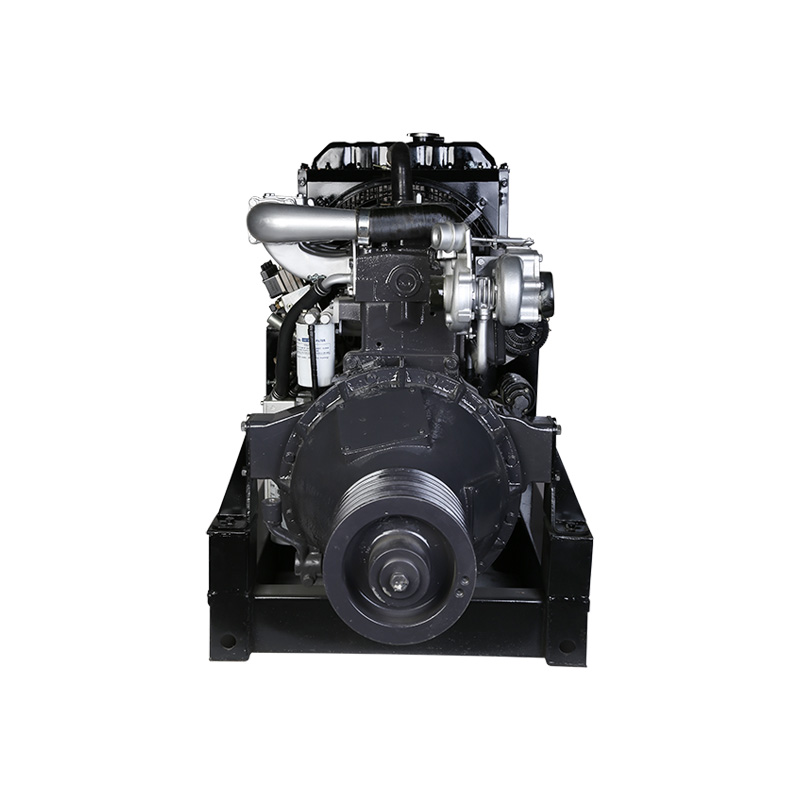 PHF6P
Application of Equipment:Stationary power

Product Description
Technical Specifications
Performance Curve
Spectrum of Machine Type
Product Description
PHF6P Series Diesel Engine is a four-stroke direct-injection type high-speed diesel engine whose prototype is the new generation product of domestic diesel engine of the same type jointly developed by Ricardo in Britain and Power HF Co., Ltd.. Based on the former R6105P series diesel engine, this series adopts new electronic unit pump technology and enables itself to meet the Stage Ⅲ emission standard for NRMM diesel engine.
Power HF makes a matching design considering the characteristics of a bulk material semi-trailer.
By making corresponding changes in some components and parts of the engine, this series is now made an ideal supporting power for large- and medium power construction machines at home and abroad. It is strongly universal with large inventory commercially available, rugged and durable, having plenty of accessories. Its reliability and service life have reached the advanced level among those of the like products in China and the top overhaul period is as long as 8000 hours.
 Product features and advantages
Fuel system
It adopts a new electronic unit pump fuel system with high injection pressure and precise control over fuel-injection quantity and injection timing. It has features of P-type injector without pressure chamber, complete combustion, enough power, low fuel consumption, low emission, intelligent control of electronic control system, warning of abnormity in water temperature, oil temperature and air inlet temperature and pressure, safer automatic alarm on potential failures, intelligent fault self-diagnosis and control, and protection strategies against abnormity in water temperature, oil temperature and air inlet temperature and pressure which protects the engine better
Intake system
Optimized combustion chamber and swirl rate airway have better intake swirls, and improve the combustion efficiency. The intake system has a high power intensity, strong power, and low fuel consumption rate and be more environmentally. Supported with high-performance turbocharger and advanced combustion system, the fuel consumption becomes less and the power becomes bigger
Cooling system
The engine block and the cylinder head are designed with a high-flow cooling system which can protect the engine from "high temperature" during all-weather high-intensity work
Design features
With the precise process technology and high quality alloy cast iron engine block and cylinder head, the complete machine has features of high enhancement degree, small size, light weight, low vibration and low noise
Reliability
It uses a high-capacity two-stage fuel filter with strong fuel water separating power, high filter efficiency and long maintenance period and is more economical. Its reliability and service life reached the advanced level among like products in China and the top overhaul period is 8000 hours
Supporting adaptability
Matching, optimization and customization of the engine and the assembly are made according to the assembly configuration and the actual use; and multiple configurations are available for flywheel, flywheel cover and generator
Start performance
It has good start performance and can start smoothly without any preheating measures when the environment temperature is no lower than -10℃
Maintenance service
It is easy to repair and service. Its components and parts are highly universal with adequate parts commercially available; the electronic control system can offer intelligent diagnosis in real time
Technical Specifications
Technical specifications of PHF6P Series Diesel Engine
Series
PHF6P(former R6105P)
Type
Four-stroke, In-line, water-cooling, direct-injection combustion chamber
Four-stroke, In-line, water-cooling, direct-injection combustion chamber
Cylinder number
6
6
Bore×Stroke (mm)
105×135
105×135
Compression ratio
18:1
18:1
Displacement (L)
7
7
Air inlet mode
Turbocharged
Turbocharged&intercooled
Rated net power/Rotation speed(kW/rpm)
75-103/2000-2200
81-125/1800-2200
Minimum fuel consumption rate at full load(g/kW.h)
≤220
≤220
Speed drop rate(%)
5
5
Emission stage
In compliance with StageⅢ in GB20891-2014
In compliance with StageⅢ in GB20891-2014
With/Without EGR
With EGR, external
Without EGR
Net weight(kg)
670
670
Application
Bulk material semi-trailer
Bulk material semi-trailer
Performance Curve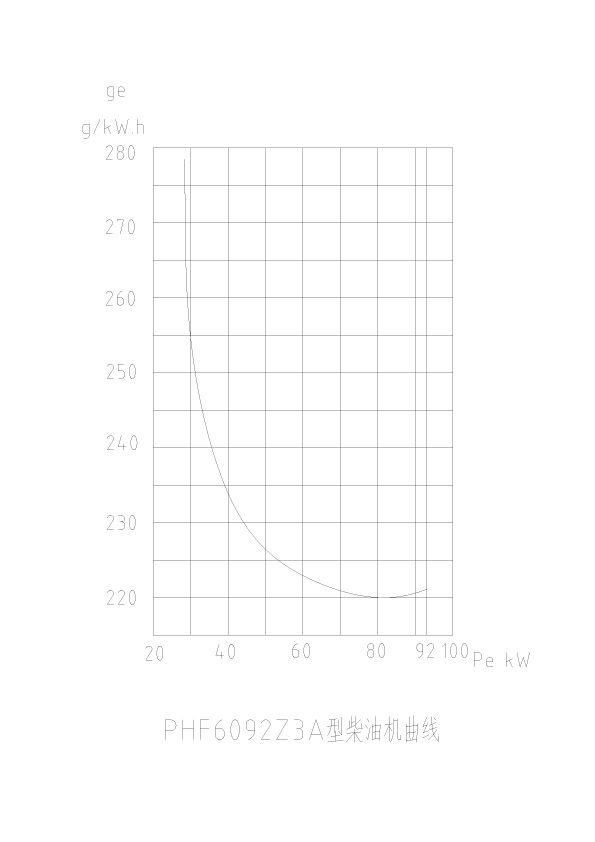 Spectrum of Machine Type
Spectrum of PHF6P Series Diesel Engine
Series
Machine type and model
Rated power/Rotation speed(kW/rpm)
Maximum no-load speed(rpm)
Idling(rpm)
Air inlet mode
Technology roadmap
With/Without EGR
Application
PHF6P
PHF6075Z3A
75/2000
≤2100
800±30
Turbocharged
Electronic unit pump+EGR
With EGR, external
Bulk material semi-trailer
PHF6082Z5A
82/2200
≤2310
800±30
Turbocharged
Electronic unit pump+EGR
With EGR, external
Bulk material semi-trailer
PHF6085Z5A
85/2200
≤2310
800±30
Turbocharged
Electronic unit pump+EGR
With EGR, external
Bulk material semi-trailer
PHF6089Z5A
89/2200
≤2310
800±30
Turbocharged
Electronic unit pump+EGR
With EGR, external
Bulk material semi-trailer
PHF6092Z5A
92/2200
≤2310
800±30
Turbocharged
Electronic unit pump+EGR
With EGR, external
Bulk material semi-trailer
PHF6096Z5A
96/2200
≤2310
800±30
Turbocharged
Electronic unit pump+EGR
With EGR, external
Bulk material semi-trailer
PHF6100Z5A
100/2200
≤2310
800±30
Turbocharged
Electronic unit pump+EGR
With EGR, external
Bulk material semi-trailer
PHF6103Z5A
103/2200
≤2310
800±30
Turbocharged
Electronic unit pump+EGR
With EGR, external
Bulk material semi-trailer
PHF6081ZL2B
81/1800
≤1890
800±30
Turbocharged&intercooled
Electronic unit pump
Without EGR
Bulk material semi-trailer
PHF6081ZL3B
81/2000
≤2100
800±30
Turbocharged&intercooled
Electronic unit pump
Without EGR
Bulk material semi-trailer
PHF6081ZL5B
81/2200
≤2310
800±30
Turbocharged&intercooled
Electronic unit pump
Without EGR
Bulk material semi-trailer
PHF6089ZL5B
89/2200
≤2310
800±30
Turbocharged&intercooled
Electronic unit pump
Without EGR
Bulk material semi-trailer
PHF6092ZL5B
92/2200
≤2310
800±30
Turbocharged&intercooled
Electronic unit pump
Without EGR
Bulk material semi-trailer
PHF6096ZL5B
96/2200
≤2310
800±30
Turbocharged&intercooled
Electronic unit pump
Without EGR
Bulk material semi-trailer
PHF6100ZL5B
100/2200
≤2310
800±30
Turbocharged&intercooled
Electronic unit pump
Without EGR
Bulk material semi-trailer
PHF6103ZL2B
103/1800
≤1890
800±30
Turbocharged&intercooled
Electronic unit pump
Without EGR
Bulk material semi-trailer
PHF6103ZL3B
103/2000
≤2100
800±30
Turbocharged&intercooled
Electronic unit pump
Without EGR
Bulk material semi-trailer
PHF6103ZL5B
103/2200
≤2310
800±30
Turbocharged&intercooled
Electronic unit pump
Without EGR
Bulk material semi-trailer
PHF6107ZL5B
107/2200
≤2310
800±30
Turbocharged&intercooled
Electronic unit pump
Without EGR
Bulk material semi-trailer
PHF6111ZL5B
111/2200
≤2310
800±30
Turbocharged&intercooled
Electronic unit pump
Without EGR
Bulk material semi-trailer
PHF6114ZL5B
114/2200
≤2310
800±30
Turbocharged&intercooled
Electronic unit pump
Without EGR
Bulk material semi-trailer
PHF6118ZL3B
118/2000
≤2100
800±30
Turbocharged&intercooled
Electronic unit pump
Without EGR
Bulk material semi-trailer
PHF6118ZL5B
118/2200
≤2310
800±30
Turbocharged&intercooled
Electronic unit pump
Without EGR
Bulk material semi-trailer
PHF6122ZL5B
122/2200
≤2310
800±30
Turbocharged&intercooled
Electronic unit pump
Without EGR
Bulk material semi-trailer
PHF6125ZL5B
125/2200
≤2310
800±30
Turbocharged&intercooled
Electronic unit pump
Without EGR
Bulk material semi-trailer