News
24h Service Hotline
Hotline:400-0536-000
Service Hotline:400-658-3060
Inquiries:0536-8192736
Technical Support:0536-8192710
Corporate News
Power HF Hybrid Power Silent Type Generator Set Appears on Canton Fair 2014 in Autumn
Publish Date:2014-10-20 00:00:00 Views: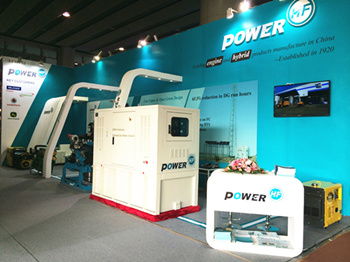 A few days ago, the 116
th
Canton Fair was held in Guangzhou as scheduled. Power HF's hybrid power silent type generator set appeared and received much attention.
On the first day of the Fair, a continuous stream of foreign businessmen came to Power HF's exhibition for consultation and negotiation. The diesel engine exhibited by Power HF is always sought-after among foreign businessmen. This time, the newly developed hybrid power silent type generator set received extension attention due to its environmental protection and energy conservation, simple appearance and easy maintenance. Apart from domestic quality purchase agents, there are foreign businessmen from countries such as Russia, Dubai, Turkey, India, Brazil, Argentina, Ecuador, Thailand and the Philippines. After learning the properties and technical specifications of various products of PF Power in detail and having comprehensive technical and business exchanges, many of foreign businessmen reached cooperation intentions with us. For days, Power HF has attracted over 100 parties of businessmen for discussion and negotiation and the volume of business of onsite purchase orders amounted to 3 million dollars.
Power HF adheres to the principle of creating quality goods with best efforts and forging a brand with quality and will make use of this Canton Fair and move bravely towards the goal of "providing first-rate power products and services to more customers"!
Next:ENGINE CHINA 2014, Double Happiness for Power HF
Pre:Power HF Appeared on CIAME 2014 with China III Machines